Welcome to Fight Academy Santa Clarita
Since 1995, Fight Academy is a School of Martial Arts that offers a complete and structured martial arts experience using World Class Instruction in the arts of Chun Kuk Do, Brazilian Jiu-Jitsu, Kickboxing and Mixed Martial Arts.
CHUCK NORRIS PROMOTED TO 3RD DEGREE
After 30 years of Brazilian Jiu Jitsu training, with the endorsement of Professor Jean Jacques Machado, Professor David Dunn promoted Grandmaster Chuck Norris to 3rd Degree Black Belt. This was the first black belt promotion held under the direction of the United Fighting Arts Federation Brazilian Jiu Jitsu program (UFAF BJJ) in which David Dunn is the Chief Instructor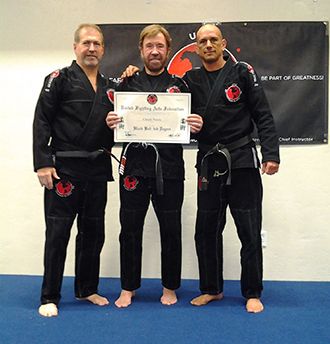 Professor David Dunn - SFVC Invitational Black Belt Superfight

Changing lives for the better in the Santa Clarita Valley since 1995
What We Do
Click on a title to learn more about our curriculum:






Latest Promotions
Check back regularly for our latest promotions.
Training in the martial arts leads to noticeable results in the areas of: self-confidence, concentration, channeling of aggression, enhancing assertiveness and discipline. We at Fight Academy invite you to join us for a train. Our goal: Workout hard and produce results while having a good time.
We challenge you to participate in a free class and feel for yourself the results of participating in a well-structured martial arts program.